BROSE STARTS PRODUCTION AND R&D ACTIVITIES IN PANČEVO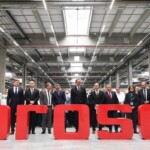 Photo: Tanjug/ Miloš Milivojević
On October 14, President of the Republic of Serbia, Aleksandar Vučić, and the company officials have visited the production plant and R&D center in Pančevo as Brose has officially started production at this site in Pančevo. It is an investment of €180 million and will provide around 1,100 jobs.
The modern plant covers 63,000 m2 and it is home to two production lines – drives for cooling fan modules and motors for steering systems and oil pumps, and to the company's modern R&D center, as well as to the development and production of electronics. Currently the company employs 350 people, with an aim to reach 1,100 by 2025.
In Brose R&D Center, employees are developing, designing and testing all mechanical, electrical, and electronic parts for the best cooling vehicle solutions. Pančevo is the second location in the Brose corporate group to manufacture electronics, enabling Brose to expand its electronics manufacturing expertise and significantly enlarge its production footprint.
"We were attracted by the industrial city of Pančevo, known for its great potential and qualified experts, as well as the proximity of Belgrade, a university centre. We have established cooperation with the Faculty of Mechanical and Electrical Engineering, and we will bring their students to practice here. We will need software and hardware developers, engineers and managers in production and logistics," said Roman Strakos, director of Brose in Pančevo.